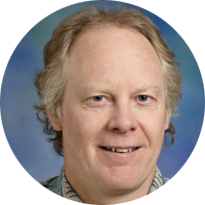 Dr. Kirk Klasing is an extensively published expert on poultry nutrition and immunology, with more than 175 peer reviewed publications, 10 books and eight awards to his name for his work in poultry nutrition. Specialist topics focus on the interaction between poultry nutrition and immunity, including the effect of diet on immune-competence, the nutritional cost of immunity and the impact of immune responses on growth-related physiology.
He is currently Professor of Avian Biology in the Department of Animal Science at the University of California, Davis, where he has worked for over 25 years. Previously, he was Assistant Professor of Animal Science at University of Illinois. He holds a BS in Agricultural Science and an MS in Animal Science from Purdue University and a PhD in Nutritional Biochemistry from Cornell University.
In this webinar, Dr. Elizabeth Santin and Professor Kirk Klasing will be talking about inflammation: what are the nutrient requirements for it.